---
---
Turnigy LSD 6.0 V 2300 mAh RECHARGEABLE Receiver Pack.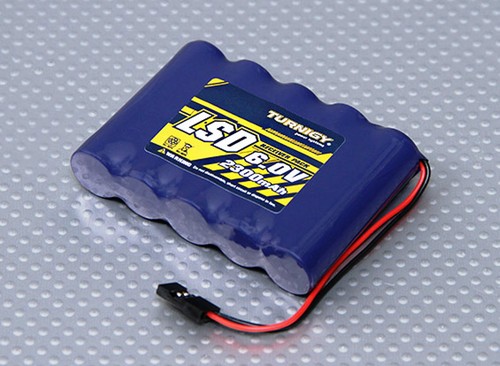 This is a 5 cell 6.0V 2300mAh receiver pack which offers long life between charges
and extremely long cycle life.
Low Self-Discharge Ni-MH batteries are a new technology that prevents the battery from
slowly loosing its charge over time.They can stay charged for over a year without loosing
more than 30% of their charge.Normal NiMH batteries would loose nearly 100% of their 
charge over 12 months.
Spec:
Category: Rechargeable Ni-MH
Capacity: 2300mAh
Voltage: 6.0 V
Chemistry: NiMH Low Self Discharge
Weight: 148g
Size: 72 x 52 15mm
Discharge Plug JR-Futaba
---